Mārtiņš and I are playing football in a long, dreary hospital corridor. He is quite light-hearted and in good spirits but has little strength. He passes the ball to me so that I can make a long pass… – Tabita's dream on the night of the one-year anniversary of Martiņš' death on 23 April. Mārtiņš probably would have liked it. 
Dear friends,
Mārtiņš Urdze is often with us these days. His last weeks were and are for us closely interwoven with the events of the Easter season – the powerlessness we felt in the face of his rapid illness, the difficulty of the Covid-19 pandemic, the great sadness we felt, the feeling of community we witnessed. But also the quiet certainty that we remain united in love.
Yesterday Toms and Amanda met Ivars and his family at Martin's grave, where people from the Krusta congregation have planted colourful flowers.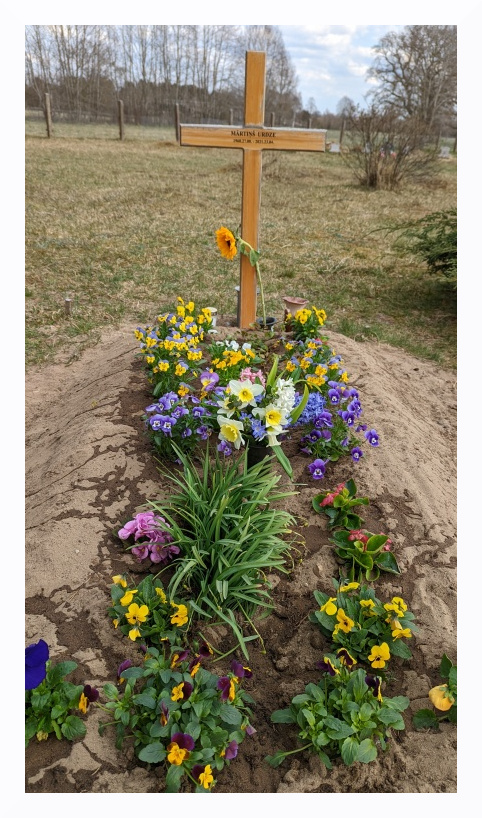 The statue of Jesus is still in the process of being made. However, it will take some time before it can take its place in the Limbiķi Cemetery. The prolonged illness of sculptor Ojars Feldbergs has set the schedule back, but the project is nevertheless moving forward. The stone for the statue has been selected, and Feldbergs will soon present his first life-size mock-up in clay. After we have agreed on the final form and appearance, a stonemason will realise the sculptor's idea. A landscape architect will ensure that the statue fits harmoniously in its surroundings in the otherwise quite plain cemetery setting. We now see Spring 2023 as a realistic date for the unveiling.
But even without the Jesus statue, Mārtiņš' grave has already brought light to this bleak section of the Limbiķi Cemetery. Even in winter, people regularly stopped by to lay down flowers and candles, thus bringing a sign of hope.
We want to unveil Mārtiņš' gravestone this summer on his birthday, August 27. We welcome all who are able to attend and mark this event with us!
With his commitment and his life, Mārtiņš left us a great spiritual legacy. We will eventually post some of his thoughts, sermons and other texts online.
Now to the living: The work in Liepāja continues. Karīna Krieviņa has led the deaconry and the congregation through this difficult time. Although she is strong and committed, it is also she who misses Mārtiņš' advice and guiding hand the most. She writes:
A year has passed since Mārtiņš' death. How has the Krusta congregation in Liepāja coped since then? Mārtiņš taught our congregation to be self-reliant, and I can say with certainty that he would be pleased with us! Although the congregation has been in mourning this past year, our activities have not stopped for a single moment. We hold a church service every Sunday, and if there is no guest preacher, the service takes place via Zoom and is followed by a devotion with live cello music and an agape feast in the church. Now that Covid-19 restrictions have been eased, church services are also held again at the Iļģi facility for the disabled near Grobiņa and at the home for the elderly on Ganību iela in Liepāja. People from the congregation and deaconry also continue to be involved in providing financial, material and psychological support for those in need, as well as helping them in their search for employment. Charity craft fairs were also organised during the Advent and Lent.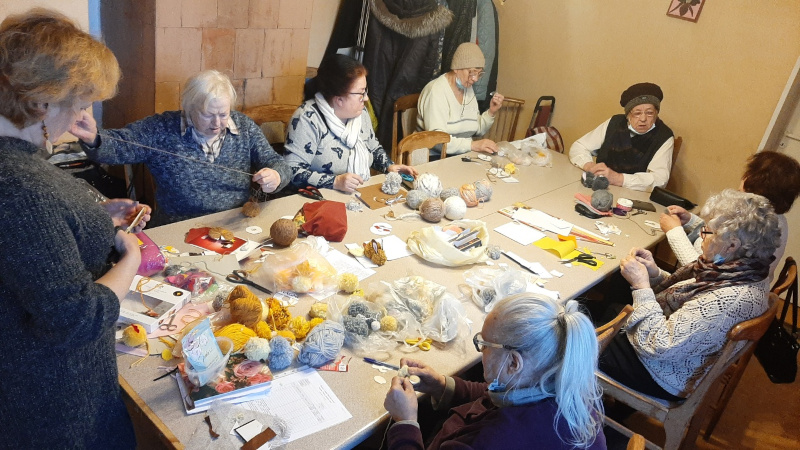 Various craft groups for people with special needs continue to meet in the deaconry as part of the "Talent Workshop 2022" project. The discussion group focused on the Bible and life in general meets every week, as does the "Dvēseles enkurs" (Anchor of the Soul) support group for youth with special needs. The "Atvasara" (Indian Summer) senior citizens' group also meets regularly. During Lent, we held weekly prayer and meditation services. Our "clothing closet" remains open and active, and Alcoholics Anonymous continues to meet in the deaconry. Likewise, we have held creative workshops, in which refugees from Ukraine have also participated. This spring, the "Dzirkstele" (Spark) section of the "Aktion Mensch" project began offering stress management classes.
Our friends in the rural regions of Rucava, Grobiņa and Durbe recently organised two communal meetings of their support groups for people with special needs, which Martin helped to form. More details at: https://www.liepajniekiem.lv/zinas/novados/seniori-priecigi-atkal-tikties-pasakumos/
We conclude this newsletter with warm greetings to all who were and are connected with Mārtiņš!
– Gita, Tabita, Toms [Urdzes]